【 非典學校 】
展 期:2018/03/24-2018/04/28
開幕酒會:2018/03/24 (六) 17:00 -19:00
策展人:Wato Tsereteli
藝術家:Aleksi Sosselia, Galaqtion Eristavi, Zura Tsopurashvili
展覽地點:VT Artsalon 非常廟藝文空間 (台北市新生北路三段56巷17號B1)
網 址:http://www.vtartsalon.com
聯絡電話:02-2597-2525
EMAIL:info@vtartsalon.com
開放時間 : 週二至週五 11:30 – 19:00 | 週六 13:30-21:00 (週日,週一公休)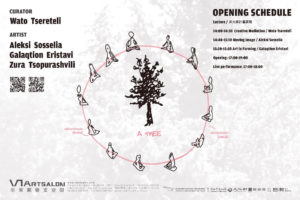 開幕行程:
▋課程一:14:00~14:30
Creative Mediation / Wato Tsereteli
▋課程二:14:40~15:10
Moving Image / Aleksi Sosselia
▋課程三:15:20~15:50
Art in Farming / Galaqtion Eristavi
休息時間: 16:00~17:00
開幕: 17:00~19:00
現場表演:17:00~18:00
策展論述:
(文/ 策展人 Wato Tsereteli)
創新架構概念的"創作冥想"本身就可以視為一件藝術作品。而實驗性教育平台是在合法經濟和概念理想化之下所創造產生的。CCA-Tbilisi和VT Artsalon 合作,聯手策劃此展覽。這展覽會將CCA經營長達八年時間的非大師計畫課程轉換成互動性質。CCA Tbilisi團隊不是簡單的將數位檔案帶到台北,而是計畫創造大規模的展覽環境,能夠融合實作學習,展覽創作和創作教育。利用使用過的家具當作材料,VT Artsalon的展覽空間會依各式不同的題材和有互動設定的作品來規劃這非大師計畫課程。這個展覽的一個相當重要的重點,喬治亞和台灣專家所整理出的一系列講座。這些講座會依照"創作冥想"而發想出不同的主題。這個"創立屬於自己的學校"的經驗,展現了CCA-Tbilisi 獨特的教育計畫。更加重要的是提供了全新的教育觀念。
【 Make your school 】
Exhibition Date: 2018/03/24-2018/04/28
Opening Ceremony: 2018/03/24 (Saturday) 17:00-19:00
Exhibition Curator: Wato Tsereteli
Artists: Aleksi Sosselia, Galaqtion Eristavi, Zura Tsopurashvili
Exhibition Location: VT Artsalon (B1, No.17, Ln.56, Sec.3, Xinsheng N. Rd, Taipei City 104, Taiwan.)
Website: http://www.vtartsalon.com
Tel: 02-2597-2525
E-Mail: info@vtartsalon.com
Opening schedule
▋Lecture1:14:00~14:30
Creative Mediation / Wato Tsereteli
▋Lecture2: 14:40~15:10
Moving Image / Aleksi Sosselia
▋Lecture3: 15:20~15:50
Art in Farming / Galaqtion Eristavi
Break time:16:00~17:00
Opening: 17:00~19:00
Live performance: 17:00~18:00
Statement:
(Curatorial statement by Wato Tsereteli) 
The innovative module titled 'Creative Mediation' can be seen itself as an artwork. It is an experimental educational platform created in legal economical end conceptual niches.
In cooperation with TV Artsalon CCA-Tbilisi has developed an exhibition project, which will translate informal masters program run by CCA for almost 8 years into an interactive installation. Instead of flying in Taipei with digital files the team of CCA – Tbilisi decided to create large-scale environment, which will transmit the synergy between practice end learning, exhibition making and creative education. Using as material second hand furniture, the exhibition space of VT Artsalon will be divided in areas referring to gallery and other offering physical settings for informal classes.
An important part of the exhibition will be organized lectures by Georgian and Taiwanese professionals that will exactly follow the subjects thought in the program of "Creative Mediation".
Whole experience of 'Make Your School' will be oriented to re-create and show the unique study program of CCA Tbilisi, but also to suggest the importance of new educational perspectives.